COVID-19 Information
The folks who attend Fall Camp each year are among the most vulnerable to COVID-19. Because of this, Shrine Mont and the Fall Camp Staff are doing everything possible to keep us all safe.

EVERYONE ATTENDING FALL CAMP THIS YEAR MUST BE FULLY VACCINATED ON OR BEFORE OCTOBER 11, 2021. THERE WILL BE NO EXCEPTIONS FOR ANYONE! YOUR REGISTRATION WILL NOT BE ACCEPTED WITHOUT PROOF THAT YOU HAVE BEEN VACCINATED BY THE REQUIRED DATE. You must provide a photocopy of your CDC COVID-19 Vaccination Record Card, SIMILAR TO THE SAMPLE SHOWN HERE, WITH YOUR REGISTRATION.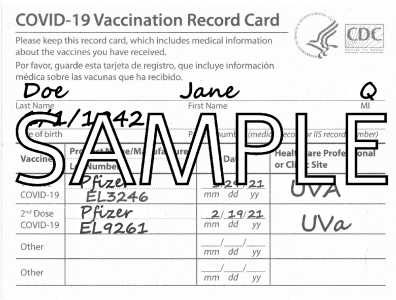 While at Shrine Mont during Fall Camp, we will be required to wear face masks while in hallways, the Book Store, and while going through the serving line in the Dining Room. For plenary sessions, workshops, and our half hour social time before dinner, we will not need to wear masks. Disposable masks will be provided in case you forget to bring your own.
Shrine Mont will provide bed and bath linens as usual, so you will not need to bring anything except personal items and perhaps your favorite pillow.
The snacks served at our social time will NOT be the customary finger foods. Instead, individual servings will be prepared according to Dept. of Health guidelines.
Total Cost
$270 per person for a double room
$350 per person for a single room
Payment
A $25.00 per person, non-refundable deposit is required with your registration and will be applied toward your total cost. Make checks payable to Tri-Diocesan Council on Aging.
Your registration and payment must reach us by Monday, October 18.
The balance of your total cost may be paid when you check in at Shrine Mont. There is often a significant waiting time in the payment line at the service counter. If you pay your balance in full by mail, and we receive it by Monday, October 18, you will qualify for express check-in.
Please remember we cannot accept credit cards at check-in.
Arrival At Shrine Mont
Fall Camp check-in at Virginia House (a.k.a. "The Hotel") begins at 3:00 p.m. on Monday,
October 25. There is no deadline. Dinner will be served that evening at 6:00 in the Virginia House Dining Room. Most campers prefer to allow time to move into their rooms before dinner.
How To Register
There are two ways to register.
You can use the on-line registration form by clicking the ONLINE REGISTRATION button below. We encourage you to do this as it will prevent the mistakes we might make typing from your hand-written form. This may be your best option if you do not have access to a printer.
  We are unable at present to receive payments on this site. If you use the on-line form, you will
  need to mail a check for your deposit payment to:
Fall Camp 2021
Susan Summerlin
513 Bunker Dr.
Virginia Beach, VA 23462
  You can include a paper photocopy of your Vaccination Record Card with your payment.
  Alternatively, you can email an electronic photocopy (a scan or good quality digital photo
  of the entire card) to:
If you prefer, you can download and print the registration form by clicking the
DOWNLOAD REGISTRATION FORM button below. Then fill in the form and mail it, along with a check for your deposit payment and a photocopy of your Vaccination Record Card, to the address on the form.